"My name is David, I am 55 years old and am the Financial Aid Director at SMSU in Marshall. I have been married 26 years to my beautiful wife Anna, we have three kids, Amber – 35, Ashley – 28 and Austin – 22, and two Grandkids, Ayden – 12 and Kennedy – 9 months.
I have always tried to stay active but after a few car accidents and just general aging it became harder to stay active. The car accidents had caused me years of pain in my neck and shoulders. Trying to work out, golf and other activities were painful.
My primary care physician sent me to an Orthopedic Specialist about 4 years ago. Over that time I had quite a few injections and actually had the nerve endings in my neck burned off 4 times. This would give me temporary relief but after 4 or 5 months the pain would be back.
In January of 2018 I was sick of the continual trips to the specialist and decided to try chiropractic care. A co-worker of mine referred me to Dr. Derrik Pinckney at the Preferred Health Clinic in Marshall.
I wish I would have gone to him 15 years ago!! The pain in my neck and shoulders are completely gone. I thought I had torn something in my shoulder but it was because of the neck pain. The difference in how I can turn my body again swinging a golf club is amazing. Other activities are easier and pain free as well.
I would recommend Dr. Pinckney and chiropractic care to anyone and everyone!!" -David, 55
---
Our success story of the week is Laurie! She came to our office with chronic pain in her low back and hip that was causing her to take anywhere from 10-12 pain pills a day. Her goal was to become medication free so she could get the surgery she desperately needed on her hip. After weekly acupuncture treatments and chiropractic adjustments, Laurie is medication free and recently had surgery on her hip. She has received acupuncture treatments post-surgery and is doing great. Along the way she increased her mobility, eliminated her stomach and digestive issues, and continues to be headache free. The strides Laurie has made have been life changing for both her and her family!
---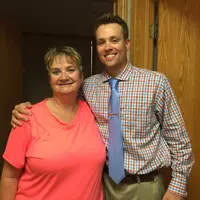 Laura came to our office with stomach/digestive issues and was diagnosed with a serious i
nfection in the lin
i
ng of the stom
ach. At the time, she was prescribed a medication that she was allergic to and could've led to serious complications. Laura wanted a natural appr
oach to try and fight this problem head on! Dr.
Pinckney started with chiropractic adjustments along with strong nutritional probiotics. Laura was amazed at how
fast she improved and now she rarely notices her stomach issues. She also began acupuncture treatments with Dr. Eichten for her stomach, stress, sleep, and anxi
ety
. Laura is happy to say that it has helped with all of those is
sues and many others! She stated, "I didn't
realize how bad I felt until I started feeling
this good!" If you or someone else you know could benefit from chiropractic or acupuncture, don't hesitate to give us a call and see how it can change your life!
---
"I am a mother of two and work in the retail industry. My job can be very demanding on my body. There have been many times when I have woken up with a sore back or neck and after a few days with the help of a heating blanket and Tylenol it goes away. However, this last Christmas was a little different. One morning I woke up and was unable to move my head to the left. As the day progressed I had to move my entire body to look left and I had sharp pains running through my entire body. I called Preferred Health of Marshall and they were able to get me in right away. After a series of tests and x-rays, I found that my back and neck were not curved the way they were supposed to. I saw my chiropractor 3 times in the first few weeks and then each week after that until now I only go once a month. I go through a series of adjustments that continually correct my back and spine. I have yet to have another episode and couldn't be happier!" -Katie, 29
---
"The first time I injured my back, I was lifting a box out of the freezer. I saw stars! The pain was extremely bad. I made it into see Dr. Evans and after a couple of sessions I was on the way to healing, which does take time. The most recent incident I had was sitting on the bleachers at a basketball game. I had to use a walker to get me into the doctor's office. After a couple sessions with Dr.Evans I was again on the process of healing up. There is nothing to compare with when it comes to back pain. I am very happy with Preferred Health and Dr. Evans." -Mark
---
"I worked for a friend of mine helping him whenever he had a big job. One day I fell off a roof and broke my back. Over the years since then my back was getting worse so I called Preferred Health and they were able to get me back in shape. To be honest my back hasn't felt this good in years. Dr. Kern was very precise on explaining what was taking place in my back and what he wanted to do to take care of it. Very nice staff, very willing to help you and answer any questions you had." -Bruce
Here's what their saying about the Preferred Body Sculpt Program...
"I was headed to Preferred Health for a regular "maintenance" appointment when I saw the sign advertising "30 lbs in 30 days – inquire inside". My mindset was right – I had been talking about losing weight "forever" but had not done it. I liked the idea of losing the weight quickly – that was added motivation. So I met with the nutritionist and found out how the program worked and the cost and made my decision to take the weight off. I wasn't hungry and didn't have any cravings even though the diet is very restricted and low calories. I liked meeting with the nutritionist once a week to get helpful tips as well as check my BMI to make sure that I was burning "Fat" and not muscle. The program worked for me – I lost 26 lbs in 30 days and am now on the "reset" phase and that is going well too. I would recommend this to anyone that wants to lose the weight quickly. I feel so much better and have my old energy back." -Linda
"My husband and I had tried to conceive a baby for over a year. I went to an OB/GYN in March 2012 who offered no assistance until I lost weight and got my new blood sugar and blood pressure concerns under control. I have always been very active but still overweight. I didn't know how to lose it on my own. I started getting adjustments at Preferred Health. They recommended the Body Sculpt Program. After 40 days on the program I had lost over 30 lbs! It was amazing to see instant results for the hard work I was doing by just watching what I ate. I felt healthier, my blood pressure went down to 1/8th the risk it had been. My blood sugar went down to normal. In my next cycle we conceived and are expecting a baby in March. Preferred Health employees always recognize me when I come in and the staff has gone above and beyond to make me feel comfortable and cared for. I feel like there is no other place I could have gone to achieve my goals, and quickly! The one on one attention was critical for me. I felt like they really cared about me and helping me meet my goals, anyway they could." -Shannon
"I would just like to thank Preferred Health for helping me make a change in my life. I knew I needed to lose some weight and her and the program certainly did that. It helped me make a "lifestyle change" of better eating habits and daily exercise. It is such a great feeling! I can sit on the floor and play with my grandson now (without wondering how and what I will look like trying to get up!) Thanks again!" -Barb